Rodina Reward
Our way of saying thank you to our loyal guests
'Rodina' means family in Czech – a reflection of our director's heritage and of the family spirit that runs strongly through everything we do at One Traveller.
This is our way of showing our appreciation to the growing number of loyal guests who have joined our family and entrusted us with their holiday plans time and again over the years. Anybody reaching a fifth One Traveller holiday will qualify for a reward. This will be in the form of a money-off voucher for a future holiday.
The value of the voucher increases with each milestone holiday, beginning after your fifth holiday, then again after ten, fifteen etc. For those well and truly bitten by the travel bug, there is no limit on the rewards waiting to be earned!
We do like to keep some parts of the program a nice surprise, but we shall contact anybody who reaches their milestone holiday with full details, including their all-important reward voucher.
All you need to do is work out where to go next and, with so many holidays to choose from, even our most experienced guests should find plenty of inspiration!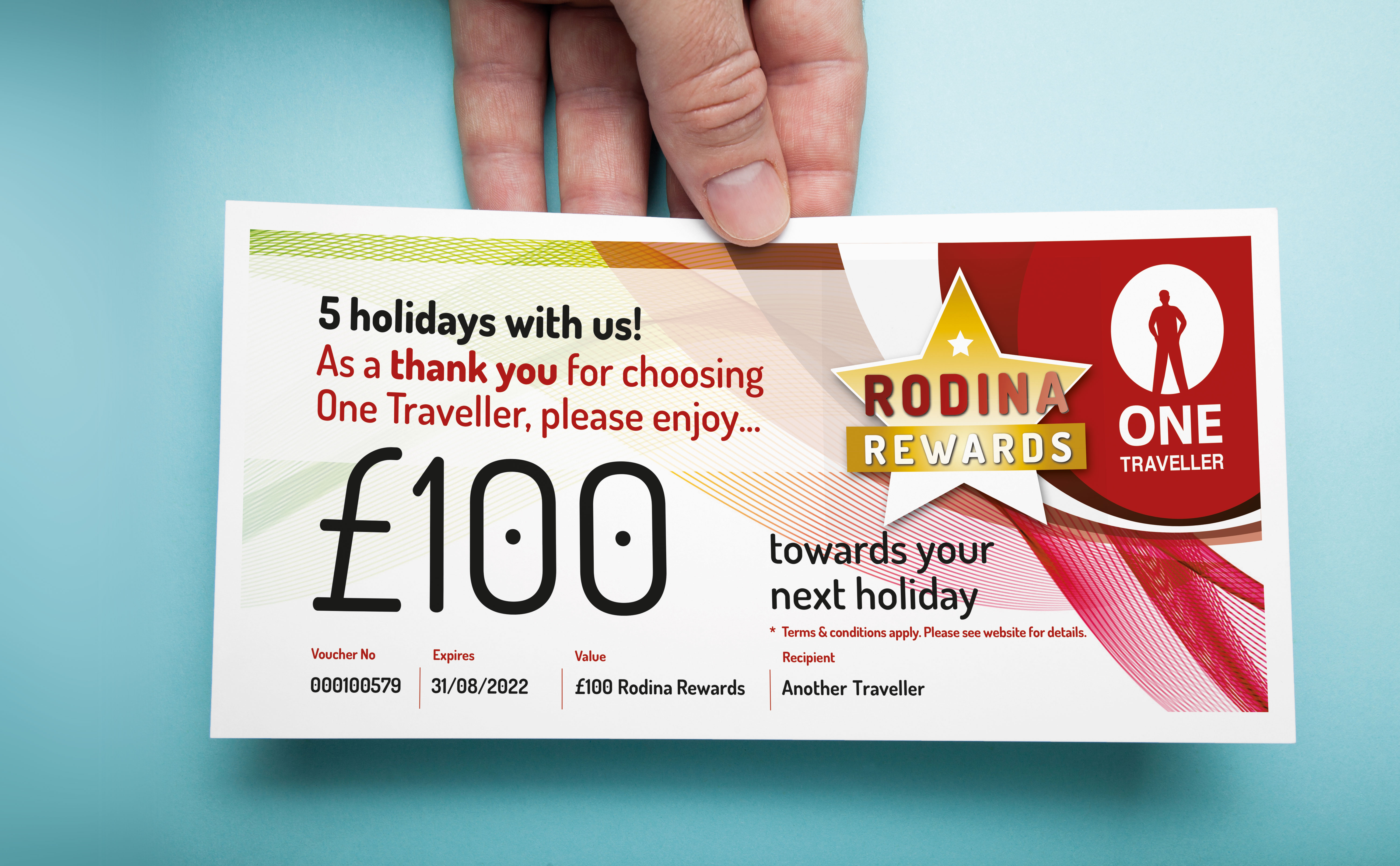 Three ways you can use your Reward voucher
Redeem your voucher against your next holiday booking
Your voucher can be used towards the cost of your next holiday with us, be it in the UK, Europe, Asia, Africa, North or South America, or our ocean or sole chartered river cruises. There's still so much more of the world to see with One Traveller and our dedicated team of Tour Managers can't wait to welcome you along for another adventure.
Gift it to a friend
One of the most common ways for people to hear about One Traveller is by word of mouth. What better way to introduce a friend to our award winning holidays than by passing on your voucher to them – we're sure they'd thank you for it (just make sure they bring you back a souvenir!).
Stack your vouchers
Not wanting to redeem your voucher just yet? You can stack your vouchers and redeem they whenever you choose. We will always send you a friendly reminder 4 weeks before your vouchers are due to expire to ensure that you don't forget.
The story of Rodina. . .
One Traveller was founded by our Director Ian Darkin in 2007. Having worked as a Tour Manager for ten years, he saw that single travellers often felt marginalised by the couples who made up most of the group. Eventually, Ian began organising excursions for these individuals within the holiday's free time and from there, the idea of what would later become One Traveller emerged.
One Traveller was founded on the principle that all our guests feel included, with nobody left on their own (unless they so wish). Guests are allocated double en-suite rooms in quality hotels, with no single supplements to pay. A full excursion program is included, as are most meals and drinks, plus those special little extras that make all the difference. I am sure these principles sound familiar.
Ian is half-Czech. His mother was born in Prague and this was the setting for our very first holidays, ably assisted by Ian's brother, Charles, who lives in the city and is a qualified local tour guide.
The rest, as they say, is history. What started as Ian's flash of inspiration has transformed in to our award winning family-run holiday company. This is of course, all down to the loyalty and support of guests such as you – many of whom we know take great pride in their role on this journey with us.
Our guests are an unbelievably loyal bunch, with some of you joining us time and again. We are so, so grateful and this is where the Rodina Rewards program comes in...
The next chapter of the story is yours to write, wherever you travel and whatever you do with your reward is up to you!
Rodina Rewards terms and conditions:
Vouchers are valid for use as part payment of any One Traveller holiday.
Multiple vouchers can be stacked and used together.
Vouchers are valid from the date printed on the attached letter to the stated expiry date. Holidays must be booked within this time, however, the actual date of travel can, of course, be later.
The voucher serial number must be presented to One Traveller for the applicable value to be applied against your holiday booking. This can be done verbally, by email, post, or via the online portal.
A valid voucher can be added at any time prior to the full balance being paid.
Any future reward voucher will be sent after travelling on your next milestone holiday.
Vouchers are transferrable, so long as we first receive confirmation from the original recipient – sent to admin@onetraveller.co.uk.
Vouchers can be used only once but will be reissued to the same value should a holiday be cancelled by One Traveller.
No cash alternative. One Traveller reserves the right to amend or cancel the Rodina Rewards scheme, including acceptance of Rewards vouchers at any time and without prior notice.