Manage your booking online
Our guest portal is a secure platform for all of your holiday documents developed especially for One Traveller guests, allowing you to access your all-important holiday details all in one place at a time convenient to you. So, whether you need to print a copy of the holiday confirmation for your records, amend your travel insurance details, make a payment towards an outstanding balance, or replace that ATOL certificate you spilled coffee on, you'll be able to do it all in an instant.
How do I access the guest portal?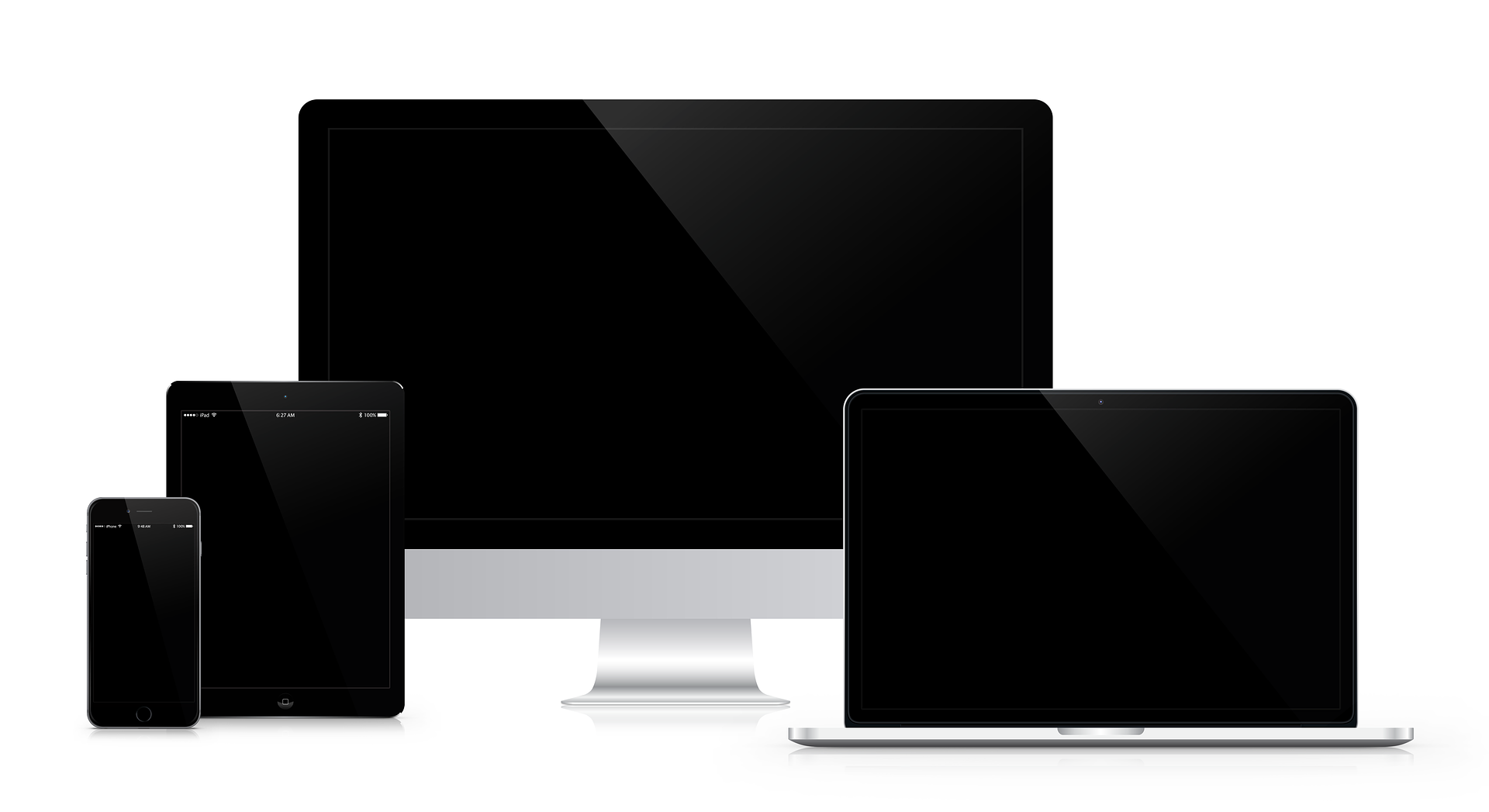 Need any help?
Our friendly web team are on-hand to assist you with any queries which you may have. Simply call us on 01760 722 011 during our office opening hours or send us an email by clicking here.



Here are just a few of the benefits of using our Guest Portal:
View all holidays booked past, present and future.
Refresh your memory on flight times before you depart.
Make payments towards your outstanding balances.
Update your emergency contact, or other personal details.
View, download and print copies of any correspondence which we have sent you – we'll always send you an email notification when you have new documents available to view.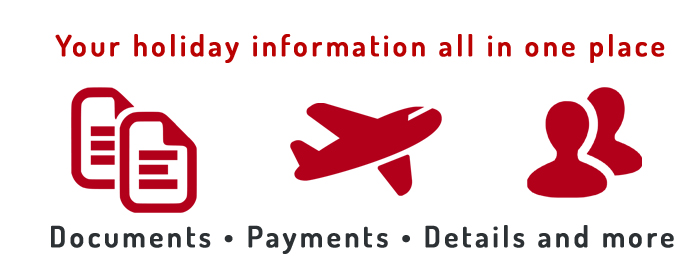 Using our guest portal – A quick guide

Your dashboard
When you sign in to your portal account you will be presented with your dashboard. If you have new documents which you have not previously read, you may also be shown a pop-up notification allowing you to quickly click to view these. Think of your dashboard as the homepage to our guest portal, from here you can navigate to various sections depending on what you would like to do. To go to a particular section, simply click or tap on the relevant icon.

My profile
Should you need to change any of your personal details such as your contact telephone number, email or address, you can do so via the My Profile section. Our aftersales team will be automatically notified of any updates that you make to ensure that the details that we have for you are accurate and up-to-date.
Please note that if you have a holiday in the next two months, any late amendments to your personal details could delay your final holiday documentation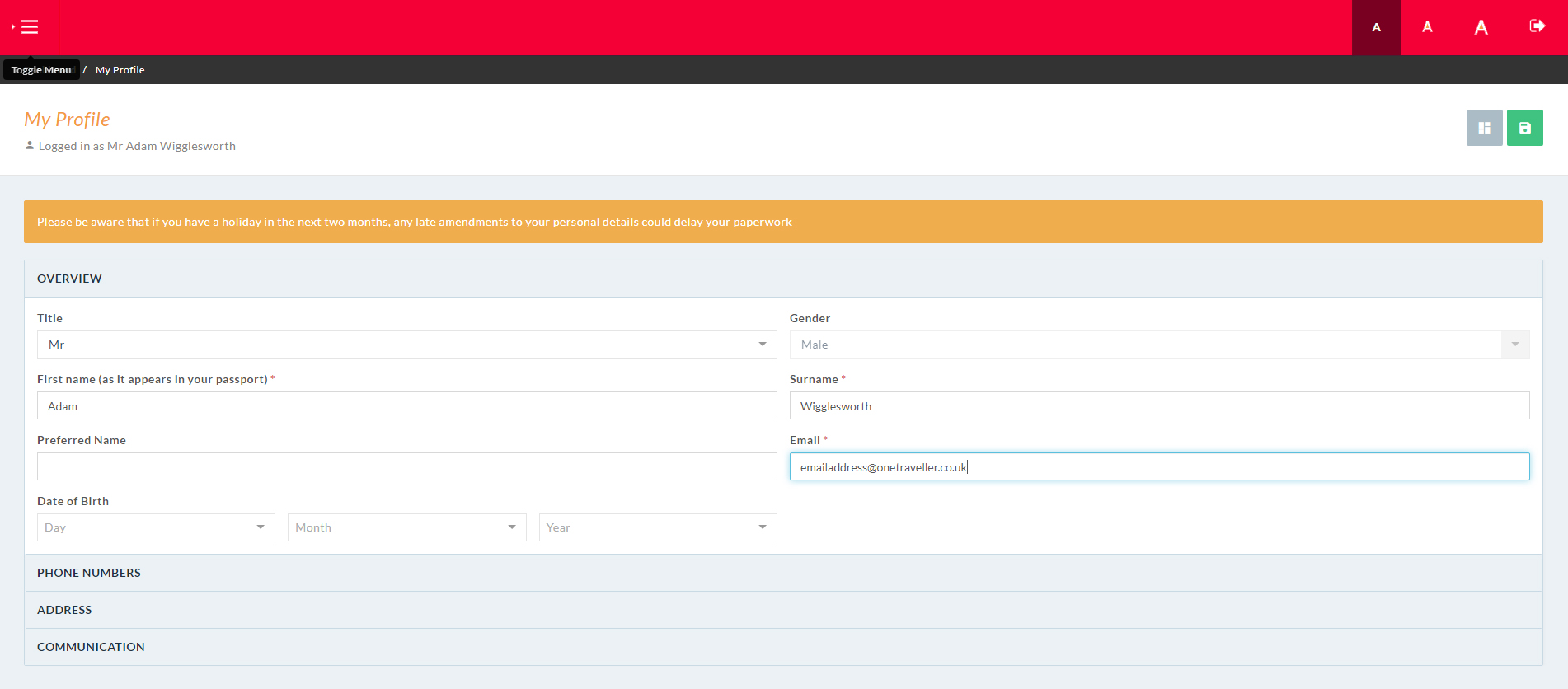 Bookings
Need to print off a copy of your ATOL certificate, make a payment towards your outstanding balance or view your flight times for your upcoming holiday? You'll need to go to the bookings section.
Here you can find details of all your holidays past and present.
To view a booking's documents and details, or to make a payment towards an outstanding balance, simply click on the eye icon adjacent to the booking you wish to view.
By default, the bookings section will show any holidays which you are either due to travel on, or completed. To view details of a cancelled booking, simply tap or click on the status drop-down and select cancelled.

Making payments
To make a payment towards an outstanding balance, open the booking which you wish to make a payment towards and click on the make payment button.
TIP: You can view details of your outstanding balance and information regarding how to pay via bank transfer in the payments tab within any booking.
If a minimum payment amount applies, you will be shown this in the pop-up window.
If paying by credit or debit card, simply select terminal, enter the amount which you wish to pay and click make payment to be taken to our secure Payment terminal.
We accept Visa, Mastercard and Maestro cards. Please note that there is no additional surcharge for guests paying by credit card.

Redeeming Rodina Rewards
If you have a Rodina Reward available to redeem, simply select Rodina Reward as the payment method, followed by the reward which you would like to redeem from the reward drop-down. Please note that only the full value of the reward can be redeemed against a booking, meaning that the outstanding balance must be greater than or equal to the value of the reward.
TIP: If you have multiple rewards, you will need to apply each reward individually.
Once you have selected your reward, simply click on make payment to redeem it.
You can also view all of your current rewards (if applicable) by clicking on the rewards option from your dashboard.