Holidays for the Mature Solo Traveller
Best Small Singles Holiday Company - winners since 2014!

A warm welcome from One Traveller to all solo travellers!
One Traveller solo holidays are about like-minded, mature individuals who, by choice or by circumstance, want to enjoy unique holidays throughout the UK, Europe and Worldwide.
A family run company, One Traveller was started in 2007 by a highly experienced Tour Manager who specialised in escorting solo travel holidays. One Traveller has since gained the reputation as the UK's number one solo holiday specialist for the over 50s.
All One Traveller holidays have many meals, excursions and extra touches included in the headline price. Every guest gets their own room in our hand-picked hotels, with no single supplement to pay.
We understand that the first step towards taking a solo holiday may feel like a giant leap, so we're here to ensure you have the perfect journey from start to finish. We'll look after all those small details that really matter, making the perfect holiday for the solo traveller.
Watch our video and find out more about booking a One Traveller holiday from our guests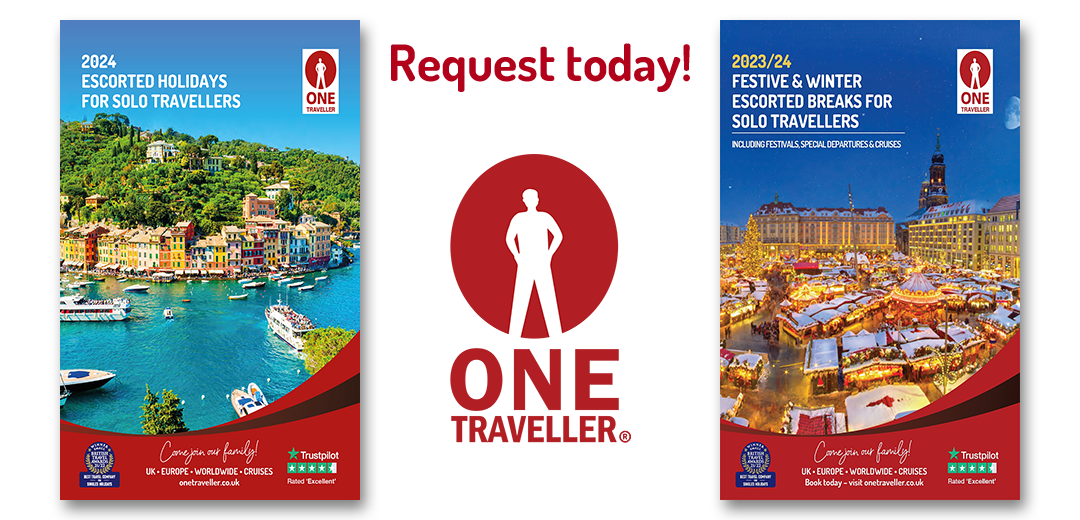 Request a brochure today!
Welcome to the latest collection of holidays from One Traveller. Don't want to browse online for a holiday have one of our brochures delivered to your door or download our brochure today.


Plan Less. Escape more!
All of our holidays have been created by us with the mature solo traveller in mind.
This means every hotel has been inspected (and slept in), every part of every itinerary has been trialled and the restaurants and eateries we visit have been well and truly sampled.
We do the hard work for you, so you can be sure that your holiday will be just right.
Meet fellow travellers, seek inspiration and reassurance before, during and after you travel with us...