Guaranteed protection for your solo holiday
One Traveller is a fully accredited, ATOL certified solo holiday company; aside from the holiday itself, receiving an ATOL certificate, along with your booking confirmation pack, is a fundamental part of any booking made by you with One Traveller singles holidays.
Being granted an ATOL license is not an easy process; with many standards and conditions to adhere to, One Traveller mature singles holidays takes pride in the fact that we are an ATOL certified travel company. This gives you the reassurance that we as a company have taken every precaution to protect you as an individual in the unlikely event we should cease trading.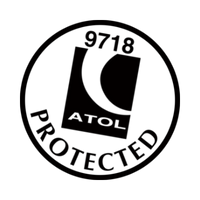 How does it work?
Choosing One Traveller solo holidays as an ATOL protected single travel company means we have been checked and certified by the CAA, so if we should cease trading you're in safe hands:
✓ If you're on holiday, ATOL will make sure you can finish your break and get home as planned.
✓ If you haven't yet travelled, ATOL will ensure you get a full refund for the holiday – and in some cases you may be able to continue with your holiday as planned.
What does an ATOL certificate show?
Your ATOL certificate is proof that the holiday you have booked is protected by the ATOL scheme. It will tell you:
✓ What is protected (the holiday)
✓ Who is covered (you)
✓ Who is providing this protection (One Traveller's name and ATOL number)
Your ATOL certificate will also tell you what to do if there is a problem.
Pack peace of mind
When you book your holiday with One Traveller, you and your holiday are 100% protected. However if you were to book your flights, hotels and other travel arrangements separately, then your holiday is not protected by ATOL and as such should any of those components encounter difficulties, your holiday and financial outlay is in jeopardy.
With One Traveller you have the peace of mind that you, your holiday and your money are all completely, 100% safe.
You can learn more about our ATOL certificate and what it means for you by visiting our frequently asked questions section.
Further Information
All our flight-inclusive holidays contained on this website are financially protected by the ATOL scheme. When you pay you will be supplied with an ATOL Certificate and confirmation invoice (our ATOL number is 9718). Holidays´ which do not include flights are protected by ABTA (the Association of British Travel Agents Limited). Our ABTA number is Y3177.
Please see our booking conditions for further information, about our solo holidays or for more information about financial protection and the ATOL Certificate go to: atol.org.uk/ATOLCertificate. Our ATOL number is ATOL 9718.