One Traveller named 'Best Singles Holiday Company' at 2020 British Travel Awards
Posted 15/12/2020 : By: Adam Wigglesworth
Share on Facebook Share on Twitter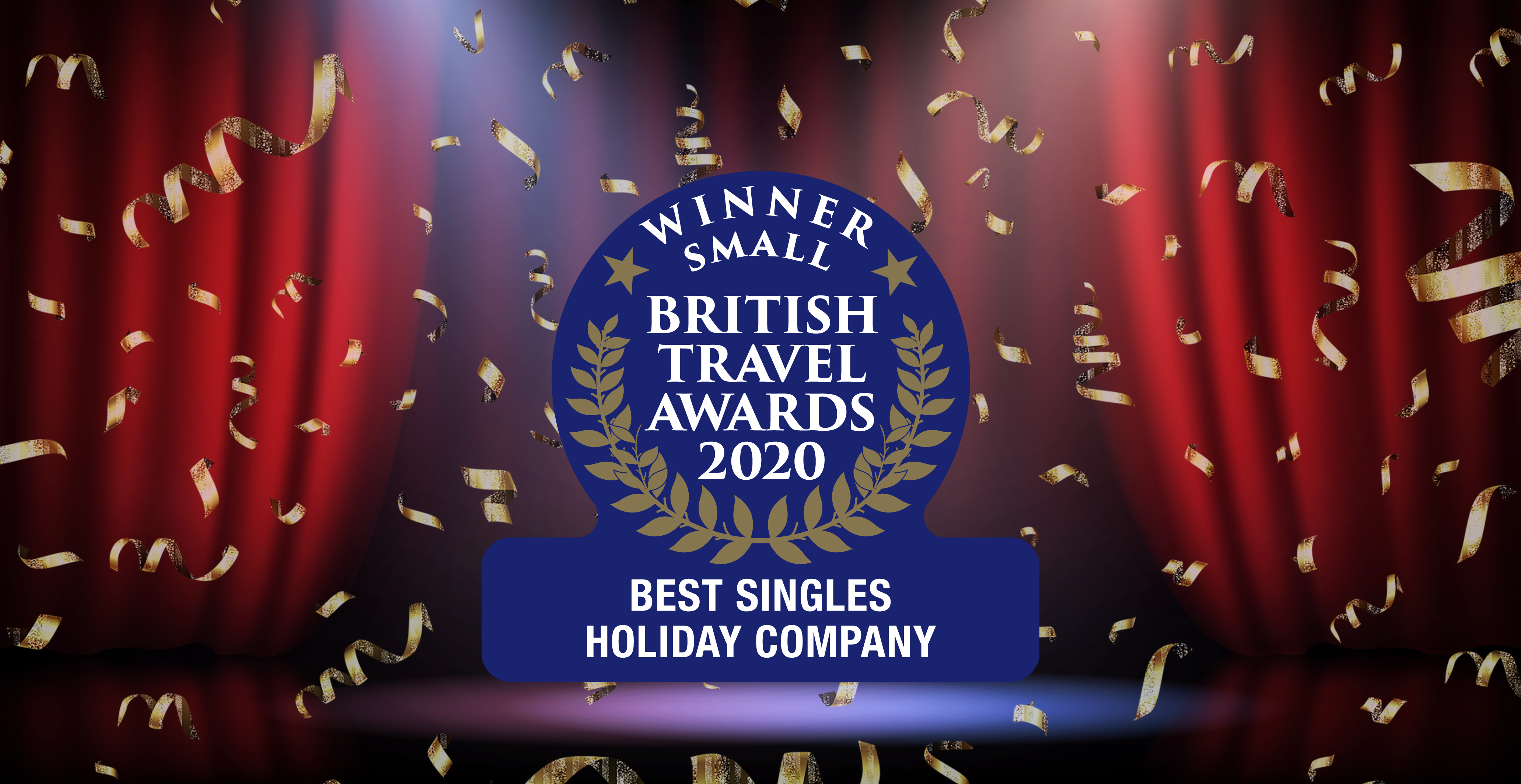 We are proud to announce that thanks to our guests' votes we have been awarded Gold winner at the prestigious British Travel Awards ceremony on December 14th hosted online by The One Show's Alex Jones and comedian Patrick Monahan. After a challenging year for us all we cannot thank those who voted for us enough and, with a happy tear in our eyes, we're looking ahead and forward to have you all travelling again in 2021 and making up for lost time. The timing of this award together with the roll-out of the vaccine offers a brighter future and a Spring and Summer 2021 with well-deserved, and much longed-for holidays to look forward to.

These awards were this year based on the level of customer care and flexibility offered by companies in holiday transfers, cancellations and refunds. This award recognises our ONE PROMISE on booking flexibility and financial protection and also our website's 'Stay at Home' and 'Time to Dream' guides which during lockdowns and restrictions offered entertaining insights to keep the mind, spirit and body occupied as well as the dream of travel alive. Do check these pages out for a wealth of fascinating articles, quizzes and virtual tours of the worlds famous attractions and stunning sights.
Given that the British Travel Awards are voted for exclusively by the public, we would not now be sat (impatiently) waiting for our trophy to arrive without the support and generosity of our guests. You are the 'king makers' here and, as ever, we are extremely grateful. You have been wonderful throughout this most strange of years, much more so than by simply casting a vote for us. Your kindness and support have genuinely helped keep our spirits up when times have been tough. From thank-you letters, to cards, well-wishes from callers and even boxes of chocolates and biscuits for the team – you have rallied around like never before.
In return, we have worked tirelessly to ensure any refunds due for cancelled holidays are paid as soon as practically possible. We have also offered goodwill gestures for those rebooking their holidays for a later date and have tried our utmost to keep everybody posted on the latest developments, both within One Traveller and in the wider world of travel.
So, we hope you will join us again soon and that One Traveller now being SEVEN TIME WINNERS at the British Travel Awards gives you confidence that you have made a great choice of travel company.
One Traveller Director Ian Darkin says…
'It is an honour to receive this national award in this difficult year when travel has just not been possible. The public were voting on the basis of past experience and also on the customer care they received during 2020. We have worked hard to keep our guests entertained and supported with our online 'Stay At Home' and 'Time to Dream' pages that kept our guests engaged and busy planning for 2021. We look forward to turning those dreams into reality in 2021!'
British Travel Awards' chief executive Lorraine Barnes Burton said:
'One Traveller is to be congratulated on winning the BEST SINGLES TOUR OPERATOR in this most difficult year for the travel industry. The winners of the British Travel Awards are decided by votes from the travelling public and despite many people being unable to take a holiday this year some did manage to, before and between lockdowns. We also asked voters to show their support for companies they had a good experience with, paying attention to customer service – recognising companies who had helped them with re-bookings, refunds and cancellations. Family-run One Traveller' high level of customer care saw that it became the overall winner against much larger competitors.'
Back to News