Coronavirus scams - What to look out for and how to protect yourself
Posted 22/04/2020 : By: Adam Wigglesworth
Share on Facebook Share on Twitter
Advice for our guests: Coronavirus scams
Admist the coronavirus (COVID-19) pandemic in the UK, many of us are concerned about when our lives will return to some level of normality. However, many scammers are seeing this situation as the perfect opportunity to profit of the most vulnerable within our society. Our team have compiled a useful overview of the latest Coronavirus scams, what to look out for and the best practices to keep yourself safe during this unprecedented time.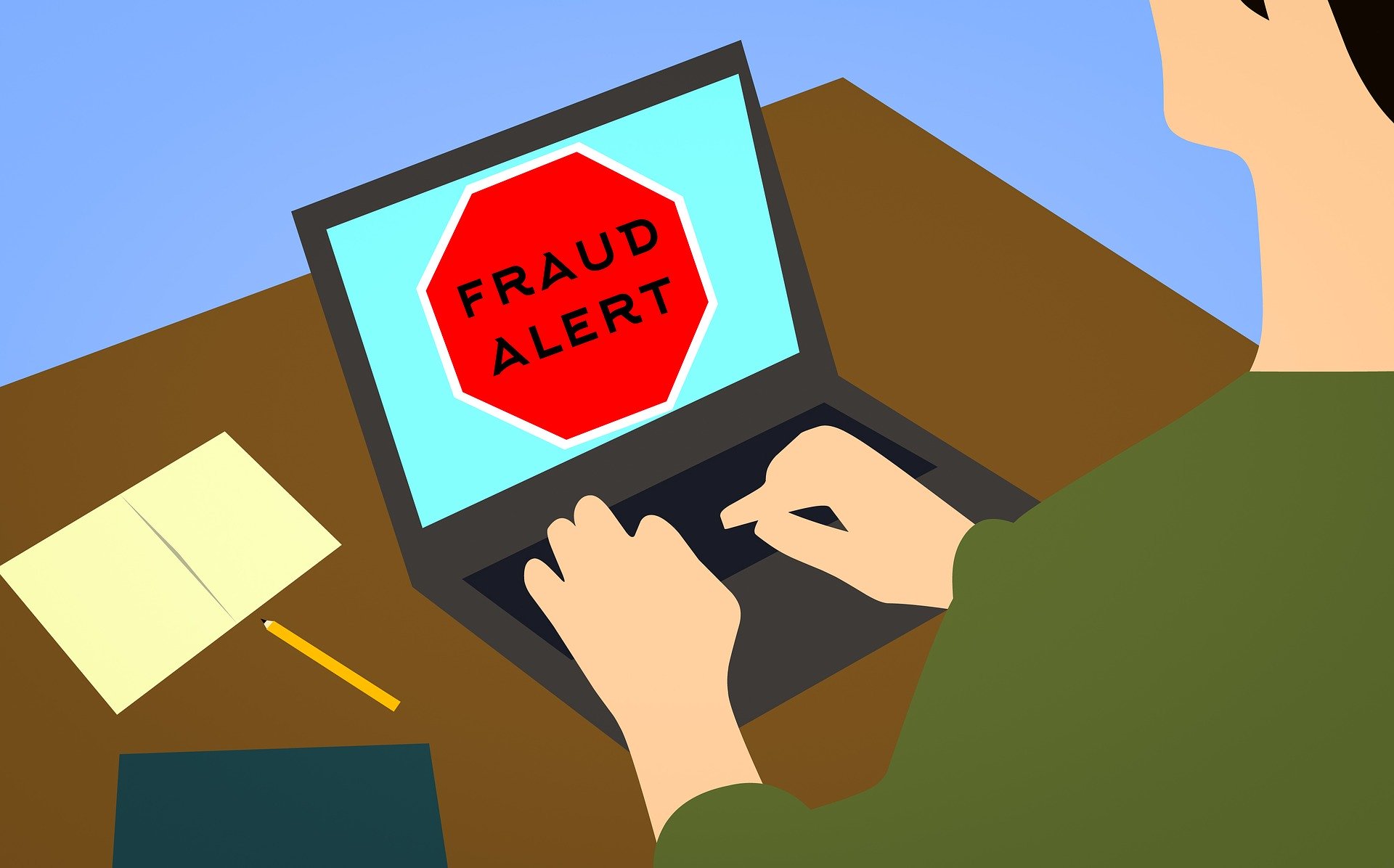 Scams are amongst the most prevalent types of crime in the UK. Coronavirus scams range from emails riddled with malware to infect your devices with malicious viruses, fake phishing websites, criminals knocking on the doors of vulnerable home-owners who are self-isolating and online shopping scams for sought-after items such as face masks and hand sanitisers.
How to spot and avoid these scams:
What should I look out for?
Unsolicited communications: Be careful of anything which you receive which you weren't expecting that claims to be from an organisation such as your bank, telecoms, utilities or energy provider. Particularly watch out for unsolicited emails claiming to be from health bodies such as the NHS and the World Health Organisation.
An urgent tone: Scam communications are designed to scaremonger and create a sense of panic.
Grammar and spelling: Many scam communications will be very poorly written and riddled with typos, spelling mistakes and grammatical errors.
Not personally addressed to you: Wherever possible, legitimate communications will always address you by name.
Illegitimate domains: Scammers often setup fake web addresses which may upon initial inspection seem to be reputable.
How do I protect myself?
If you speak to an operator, you could be at risk of giving them your personal information or your financial details, which could result in identity theft or financial loss.
If you press a button on your phone, you could be redirected to a premium rate line, for which your network provider would hold you accountable for the cost of making such call.
Only shop from reputable outlets and wherever possible, use a credit card for payment. Don't buy any goods offered to you on your doorstep.
Ensure your devices are protected by downloading the latest software updates. You should also install Antivirus software and keep that up to date too.
Do not answer your door to anyone who knocks out of the blue.
Misinformation - How to avoid spreading bad information
Trustworthy health advice has never been more vital and unfortunately misinformation regarding the Coronavirus is flooding the internet and experts are calling on the public to practise "information hygiene" when accessing this information.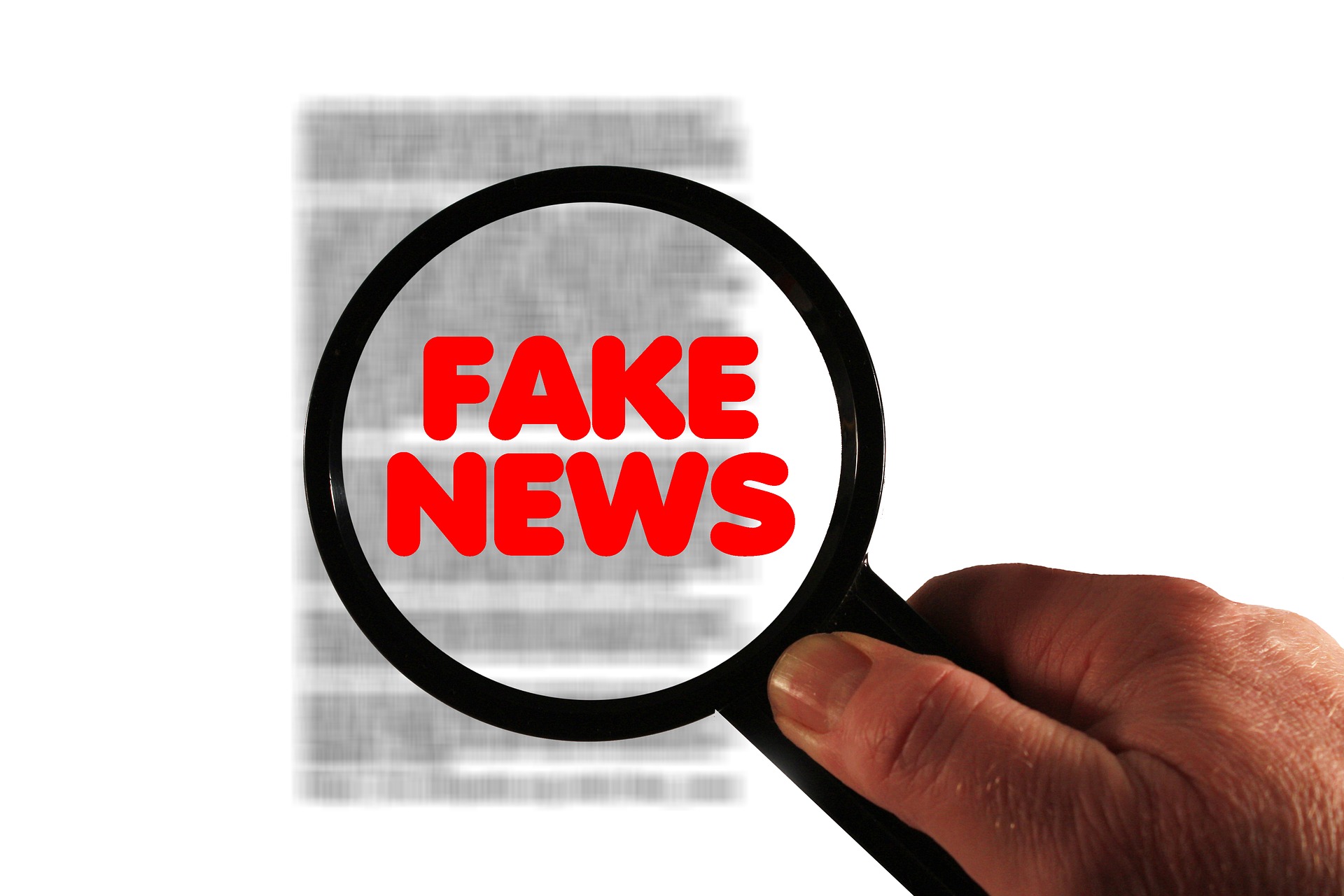 When accessing Coronavirus information line ensure that you follow the steps below to avoid spreading bad information:
Stop and think - If you have any doubts, pause, and check it out further.
Check your source - Before you share it, ask some basic questions about where the information comes from.
Could it be fake? - Appearances can be deceptive and it is possible for people to impersonate official accounts and authorities.
Unsure whether it's true - Don't forward things on if you're unsure whether it is true.
Check each fact - Use the fact checking tools below to check each statement individually for its authenticity.
Fullfact is the UK's independent fact checking charity. The charity actively seek to investigate the authenticity of statements and push for corrections where necessary to prevent the spread of misinformation. You can fact check information using the free Fact Checking tool on their website by clicking here.
The latest scams to look out for:
NHS scam emails
Scam emails purporting to be from HM Government asking for donations to the NHS during the COVID-19 outbreak. The NHS will never ask you to send money directly to a bank account. If you would like to donate to the NHS you can do so via their official channels or your local NHS trust.
Fake lockdown fines
People have been warned not to fall for a bogus text message saying that they are being fined for stepping outside during the coronavirus lockdown. The scam message claims to be from HM Government, telling the recipient that their movements have been tracked through their phone and that they must pay a fine or face a more severe penalty.
HMRC goodwill payment
The MET police are warning of a fake message designed to steal your account details that says "As part of the NHS promise to battle the COV-19 virus, HMRC has issued a payment of £258 to you as a gesture of goodwill".
Home testing kits
The Chartered Trading Standards Institute (CTSI) has warned the public not to open their doors to bogus healthcare workers claiming to be offering 'home-testing' for the COVID-19 coronavirus. Suspicious callers are said to have been knocking on the doors of elderly and vulnerable residents in various parts of the UK, saying that they are health officials offering door-to-door testing.
Scam texts – what to look out for?
Scam texts often contain links or attachments which lead to malicious sites. Do not click on anything which you believe to be suspicious.
An example of one of the scam texts being sent claims to be sent from the Government, offering a payment related to the coronavirus. The following image shows the text in question and the webpage which the link contained within the text goes to. You will notice that the link does not go to the official https://www.gov.uk/ website, but rather a malicious site which requires you to enter your personal details. This type of scam is known as phishing, a method used to try to gather your personal details using deceptive communications which imply they originate from a reputable source.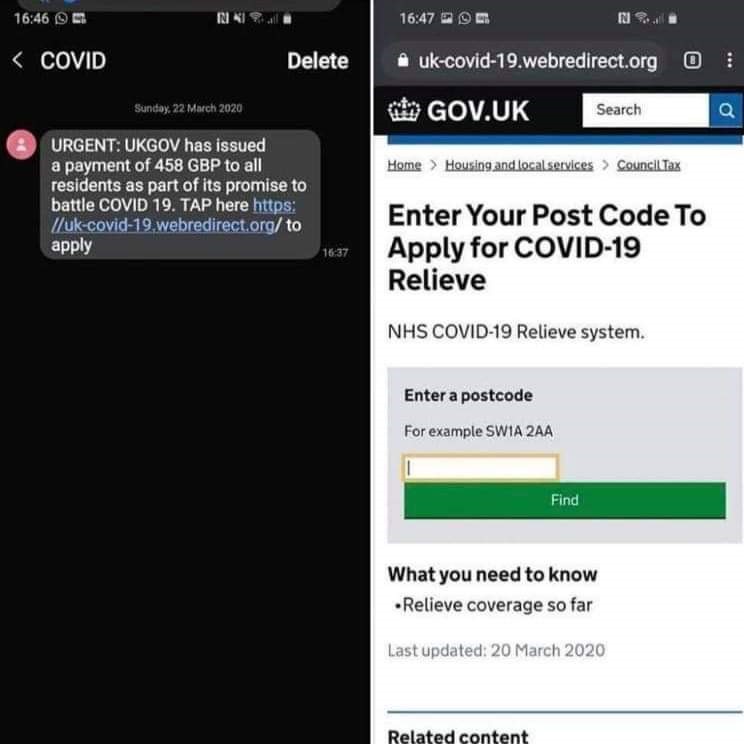 Calls claiming to be from a holiday company
It has been reported that some scammers are claiming to be from various holiday companies asking for bank details such as your card number, expiry date and security information to make reimburse you for the holiday that you have booked. Holiday companies including One Traveller will NEVER ask for such details should we need to make a payment to you. To make this payment holiday companies only require the name as displayed on the account, your account number and sort-code, if any additional details are requested end the call immediately and if booked to travel, report this to your respective holiday company.
How do I know if an alert is official?
Remember that whilst we should always be on the lookout for scam communications, the Government has been sending out official alerts to mobile phones. These are being sent gradually, so some of you may receive them before or after others.
These texts are legitimate messages containing important updates and advice from the Government.
Such texts will come through from 'UK_GOV' and look like this: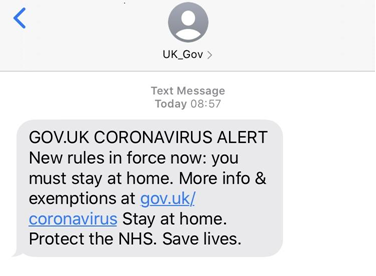 If you receive a message that is different to the one shown here, it is unlikely to be an official communication, therefore you should ignore it, delete it and report it.
What to do next?
Find out more about how you can report a communication that you believe is fraudulent by visiting the Action Fraud website:
https://www.actionfraud.police.uk/
Last updated: 15/04/20
Back to Stay At Home Guide